Finger-licking ideas for picnic food
Colourful sandwiches and skewers
Delicious hacks for perfect taste
Brilliant butter tips
Twists and spins on classics
If there's one thing we Brits do well, it's picnics. Picture yourself stretched out on the lawn, relaxing in the park or nestled on a riverbank, tucking into tasty, buttery food. Oh yes.
A classic picnic is a great way to bring friends and family together. But don't just settle for a subpar assembly of sandwiches.
To make the occasion truly memorable, you need to pull something a bit more exciting out of your hamper. But don't worry – with just a few simple, extra touches, you can create a picnic crowd-pleaser that will have everyone smacking their lips.
From family days out to a romantic afternoon, whip out the blanket and get inspired. Read our top time-saving tips, inspired suggestions and brilliant butter hacks for mouth-watering picnic ideas. Guaranteed to make your outdoor feasts even better than before.
Super sarnies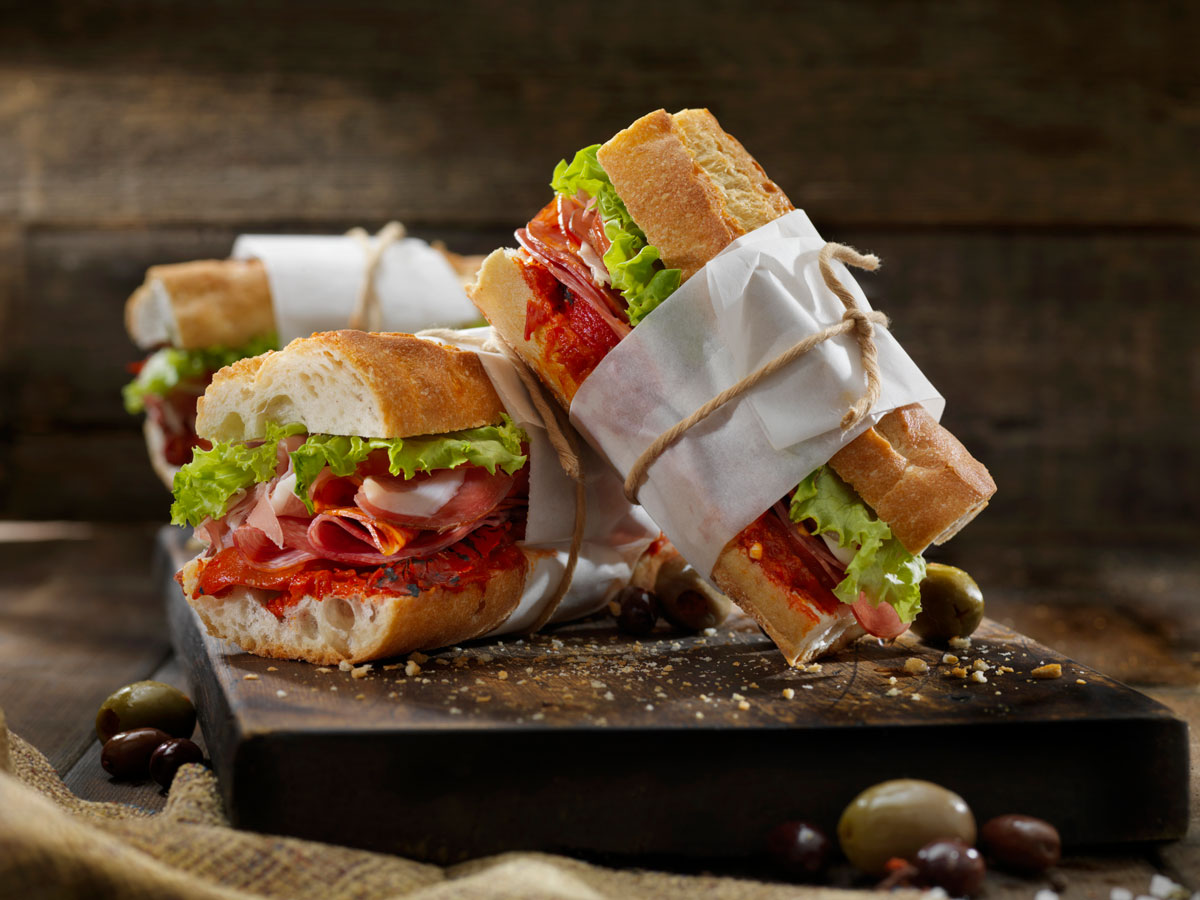 As magnificent on the stomach as they are on the eyes, well-presented and thought out sandwiches top the list of best picnic ideas.
When dining al fresco, why not keep in theme with beautifully pressed Italian-style sarnies?
Simply smooth some silky, rich and creamy Anchor butter over fresh ciabatta, garnish juicy tomatoes and rocket over a stack of deli meats, and you've got an uber upgrade of the classic sarnie that's bursting with satisfying flavour.
Simple to make, but sure to impress, whether it's a family picnic or a romantic treat.
Top tip: Serve up true deli delish by stacking salami with prosciutto and pastrami – it makes for a sensational peppery taste. For an added tangy zing, create trans-Atlantic bliss with a dash of American-style mustard too.
Buttered cobs with a kick
Classic summer snacks just got snazzier. Take your corn on the cob to the next level by smearing with a buttery blast.
Prep your butter before your picnic outing and take with you in a tub. All you need for your tantalising twist is to add a dash of basil, a sprinkling of salt and a dusting of cayenne pepper to it.
Corn on the cob makes great picnic food for kids, but lovers of spice can turn up the heat by adding as much as they like.
Top tip: Take some sauces with you so there are even more cob-based tastes to try. Jerk sauce is especially fantastic to dip in or drizzle on top after you've added the butter – offering a fiery taste of the Caribbean.
Sensational skewers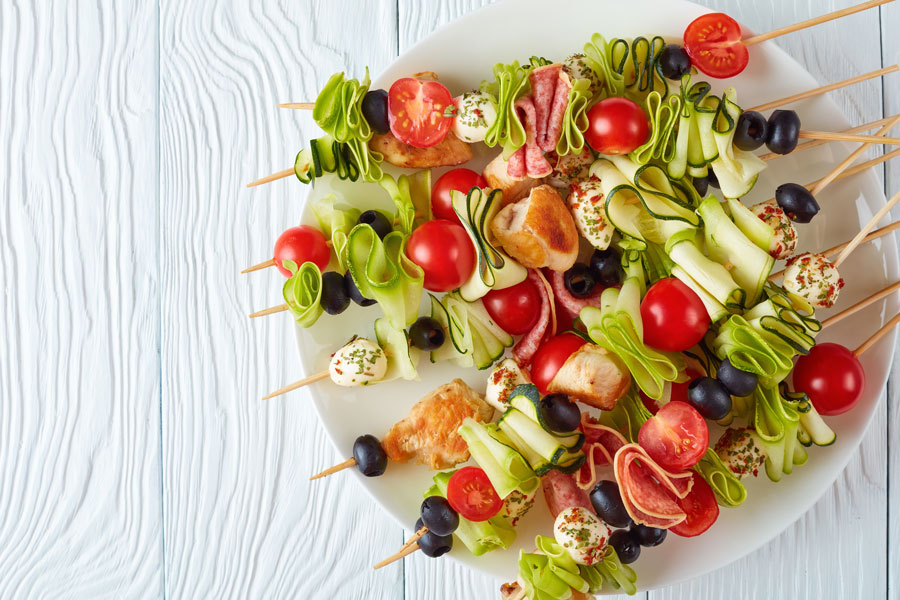 For bold picnic ideas that quite literally stick it to the ordinary, try your hand at amazingly simple 'suped-up' skewers.
Delicious pre-cooked or with fresh, cool offerings, select the things you love the most and pierce them in a row for a medley of mega.
Swap mozzarella balls with mature cheddar chunks if they take your fancy, slide on peppers or tomato, and opt for whatever meats tickle your pickle – heck, literally add a pickle if that satisfies your tastes!
Top tip: Halloumi is a fantastic, sturdy cheese to add to a skewer, forming your stick-based centrepiece. For added delight, pair with a drizzling of hot sriracha sauce, or fry with butter in a pan beforehand.
Splendid scones
Is there anything else more beautifully classic than nibbling on scones while picnicking in the park?
How to pronounce the legendary baked goods, and whether the jam or the cream should go on top, is hotly debated. But their gorgeous place as the picnic treat of choice certainly isn't.
Perfectly paired with a flask of tea or bottle of juice, scones are sweet delights that go well with any occasion. You may like yours lathered with butter and lashings of jam, or you might prefer topping it off with a dollop of squirty cream.
One of Britain's staples, Scones are undoubtably among the best picnic ideas.
Top tip: For something a little bit different, try a nice rich plum or blackcurrant jam instead of the traditional strawberry or raspberry. Still blissfully sweet – but just that little bit more special. Savoury scones are also an increasingly popular trend. Pick up some chili cheese scones and add a layer of creamy butter to each half for an especially indulgent snack.
Fabulous fruit
When stretching out on the lawn under the sunshine, you need something juicy and refreshing to perk up your picnic.
Whether you are plucking sweet grapes from the vine, nibbling on strawberries and squirty cream or enjoying apples and pears on a cheese platter, they're always welcome at any picnic party.
Whip up a colourful fruit salad, or – to make yourself really proud – add a bunch of your own brilliant favourites to a pre-baked base. Just like that, you've rustled up an apple, pear or berry tart!
Top tip: For a fruity twist on quenching your thirst, chop up fruit and add to your jug of drinking water. Strawberries and thyme make for wonderfully refreshing coolers, and lemon adds a zesty burst with each sip.
Easy-does-it pasta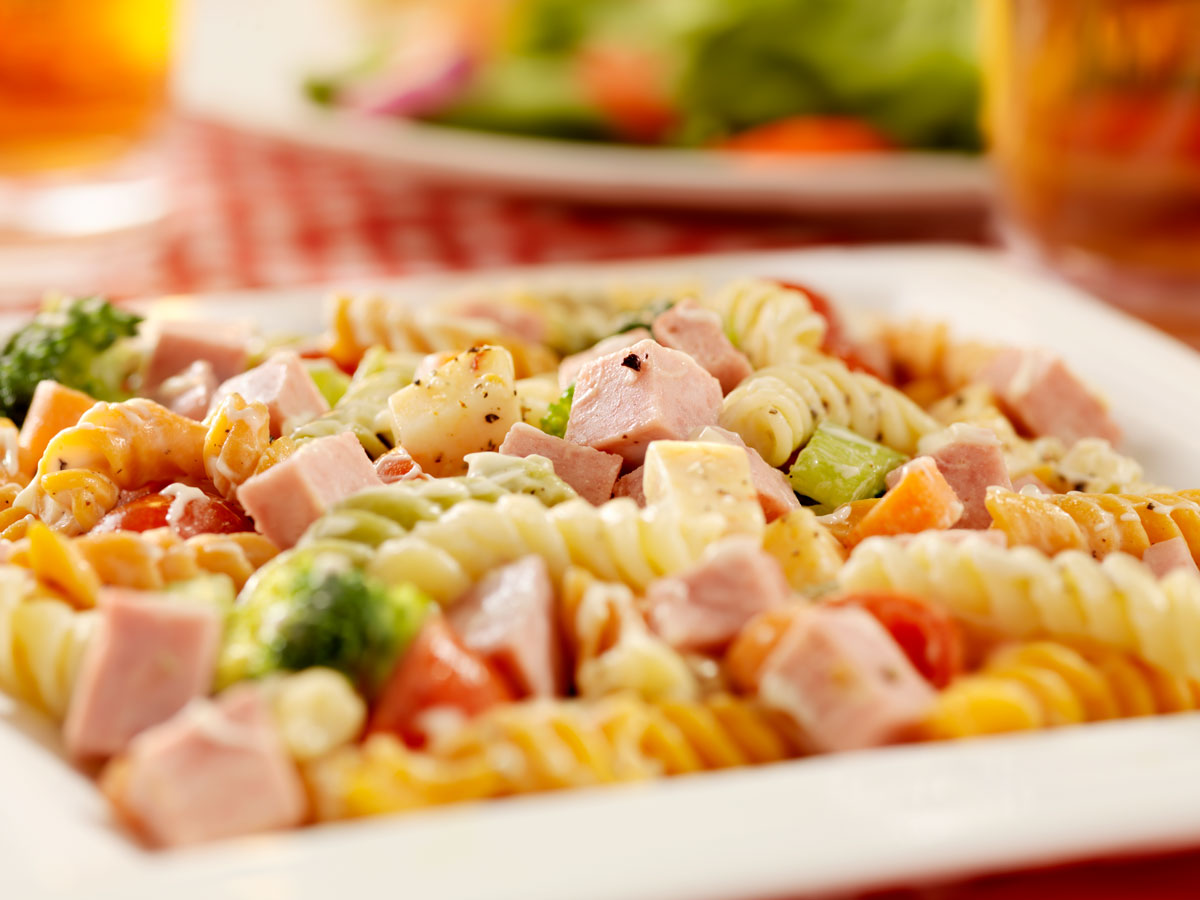 Pasta is not just a favourite for indoor dinner – it can also make for cracking kids picnic food as well.
Quick to prep and easy to eat while dining on a blanket outdoors, it can also be served cold, making it a cool and refreshing bite for you and the young ones to enjoy on your picnic.
Peas and sweetcorn are easy to stir in with bits of ham and cheesy chunks to make it that little bit more exciting. Tuna flakes are especially tasty to throw in – but if you're feeling really adventurous, consider adding chicken tikka pieces or bits and pieces from a curry you cooked earlier, to make an Indian-Italian crossover.
Top tip: When cooking the pasta beforehand, add some butter on top as a finishing touch – and watch it ooze and melt down into the mixture below. Now your snack will taste even creamier and more delicious when served al fresco later on.
Simple snacking
The great thing about picnics is that they so often feel like complete and utter freedom. Scoff all your favourite foods while kicking back in the sunshine and letting all your cares just float away.
Dip your favourite crunchy crisps into a flavour-filled dip. Lightly salted tortilla chips are incredibly moreish when sunk into tomato hummus.
Other delectable finger foods that are perfect for a family picnic are the ever-popular sausage rolls, scotch eggs and chicken wings. They're easy to pop into food containers to keep fresh when you take them along with you, so you can keep nibbling all day.
Top tip: Make those classics that little bit more delectable with a top dipping sauce. Mustard or piccalilli is perfect for sausage rolls and scotch eggs, melted butter with some favourite spices mixed in enhances humble finger sandwiches, while chicken wings come to life when dipped into BBQ.
More ultimate snacks
Whipping up the most fantastic food makes those special days all the more memorable. But it's not just classic picnic staples that can be taken to new heights in a few simple steps.
From brilliant breakfasts to astonishing suppers, we've got plenty of ideas on how to make every meal and occasion the best it can be.
Chomp down and enjoy the rest of our inspirational guides.