Create jacket potato heaven
Find the ideal spud
Top toppings: butter is a given - but how else will you fill yours?
Sides: what goes great with baked potatoes?
Get the perfect combo of crispy and fluffy
The spud
The topping
The butter
The sides
The method
Jacket potatoes are just ahh.
Oven-roasted 'til the skin turns crisp. Cracking like a shell when split open. Steam seeping that heavenly scent skywards.
Then, of course, wedges of butter melting into pillows of fluffy potato.
They are the perfect canvas for a complement of toppings, generously ladled over and running down the edges. The food equivalent of a warm, enveloping hug after a cold, hard day. Let's face it – jacket potatoes put the comfort in comfort food.
Take your spuds to the next level with our guide to the ultimate jacket potato. We'll help you find the perfect spud and introduce you to toppings that will tantalise your taste-buds.
Read on for some handy hacks and inspired jacket potato ideas.
The spud
It all starts with the spud. Behind every great jacket, you'll find an amazing potato.
Neglect this most fundamental of points and your spud is set to fail – even if topped with the richest Anchor butter and the tastiest of treats.
What potatoes are best for jackets?
Potatoes come in all shapes and sizes, with around 4,000 known varieties.¹ But only certain spuds are suited for baking.
Choose a 'floury' type of potato such as…
Maris Piper: One of Britain's most popular potatoes² – loved for its fluffy texture.
King Edward: Versatile spud famous for its pink-patched skin and creamy flesh.
Melody: One of the very best varieties for creating a baked potato.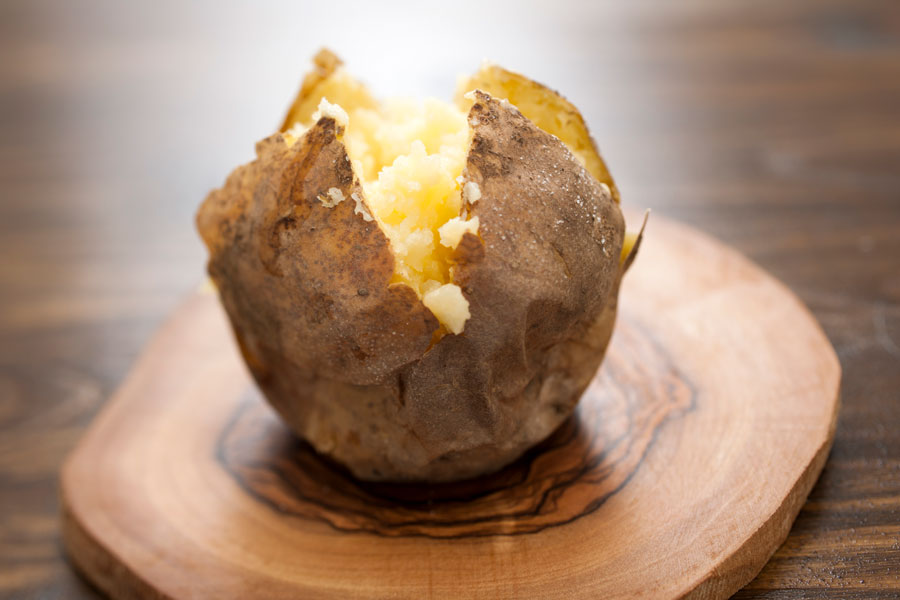 What size potato is best for jackets?
The perfect jacket potato should be round and fat. Potatoes of this shape provide the dream jacket – a broad surface area for lots of crispy skin protecting a pile of soft potato.
They also provide plenty of space for stuffing with molten butter and sumptuous fillings.
Smaller potatoes may cook more quickly, but there's nothing like serving up a true statement spud.
The topping
Your potato is only as good the delicacies you put inside it, on top of it, or both.
Popular jacket potato fillings and toppings vary from curry to cottage cheese, leftover Bolognese to beans livened up with Worcester sauce.
But whatever the topping, there's one thing you simply cannot miss – and that's butter.
Butter or margarine?
To do your jacket justice, it must be butter. Marg is just meh.
Scrape along your knife, slide the butter onto the potato and watch it melt.
The liquid butter will wind its way down the soft, hot potato like tiny golden streams on a crisp food mountain (sorry, but we love getting poetic over our potatoes sometimes).
Cheesy jacket potatoes
Cheese and jacket potatoes go together like burger and fries. But which cheese should you choose for your spud?
Go for a melting cheese like cheddar or mozzarella, and let it ooze its stringy goodness all over your jacket.
Italian-style – Split your jackets in half, add a spoonful or two of tomato puree and scatter over torn mozzarella and olive oil. Grill 'til it bubbles and blisters. Hey presto – a jacket potato pizza!
Halloumi – This salty cheese-of-the-moment is absolutely delish on classic comfort food. Fry slices of halloumi 'til golden, then dice. Mix with a jolt of chili oil, then drape all over your spud.
Filled skins – Scoop out the potato once baked, and mix with rich, creamy butter and grated cheddar. Then scoop back into the skins and grill 'til golden. Splash liberally with Worcester sauce, or add a dash of mustard for some extra zing.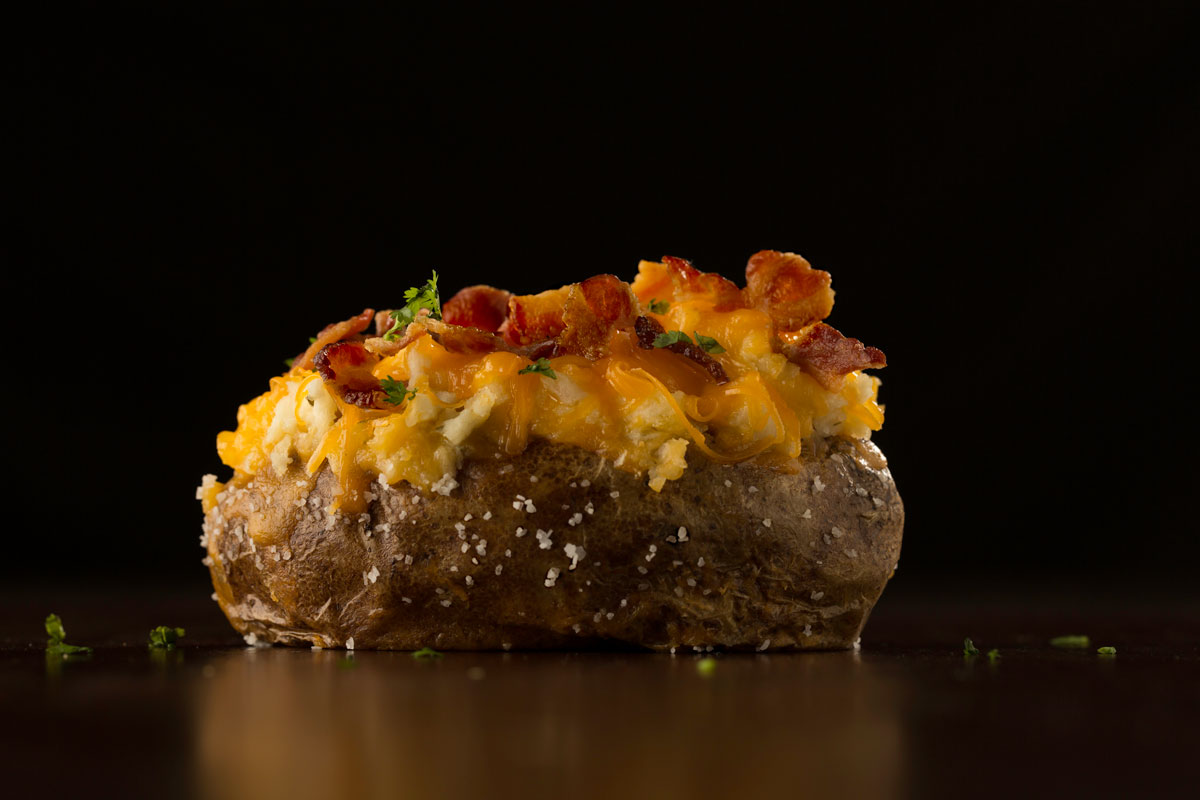 Filled jacket potatoes
Fillings and toppings can cover a wide range of options, and jacket potatoes with the right cold fillings can liven up the dullest lunch-break.
Pack your potato with:
Tuna mayo – An absolute classic, deserving of its place alongside the best-ever jacket fillings. Add a dash of lemon and a bit of extra butter for something truly inspired.
Cottage cheese – Cool, creamy and oh-so easy to create. Open the tub straight from the fridge and dollop on your spud. Liven it up with some crisps, bacon bits, or even a drop of spicy sauce.
Chicken and pesto – Cold leftover chicken mixed with green pesto and cherry tomatoes is a bit of a wildcard. Tastes amazing though.
Chicken tikka – For an extra kick if you go the chicken route, why not try pre-packaged chicken tikka chunks or slices instead? Even better with a bit of mango chutney.
Top tip: Get the absolute best from your jacket by blending the right ingredients. A baked potato with salty tuna, creamy mayonnaise and luscious butter will always taste better.
Saucy jacket potatoes
Spuds slathered in sauces are another winner.
Jackets provide the perfect launchpad for your leftovers too, saving you time and money as well as combining two worlds of flavour sensation.
Top your potato with:
Bolognese – For an Italian take, covered with mozzarella and grilled. Get the most from the Bolognese you made at the weekend – bonus points for throwing in a smattering of pasta shells, or a side of crisp bread smothered with garlic butter.
Curry – Creamy korma on buttery potato is comfort food heaven. Or you can opt for something spicy like a jalfrezi. Create the ultimate backed potato and curry fusion!
Chilli – To warm the cockles on a cold night. Make chili from your leftover Bolognese for double points.
Stew – Peppery beef and vegetables ladled over your potato – perfect on a cold night. Leftovers can be eaten with buttery mash and dumplings too.
The sides
Every great leading actor needs support. So, when it comes to your jacket spud, which accompaniments will be winning best supporting side-dish come awards season?
Slaw
This seems the perfect place to start. Dollop a classic coleslaw from a tub in the fridge, or spend some time making your own American-style star.
Crisps
For an extra treat, some nice tortilla-style 'chips' will work brilliantly alongside. If you opted to abstain from cheese on the spud, you can even add some to these instead.
Baked beans
Another proud and pleasing accompaniment, particularly on a cold night, or after a long day. Served classic, or spiced with Worcester sauce and topped with cheese.
Top tip: Don't just settle for plain tinned beans. Give them a makeover with the addition of a few extra ingredients and spices. Fried chorizo, paprika and pepper brings a touch of Spain to your Saturday lunch. Melting a knob of butter onto your beans as they simmer, meanwhile, will give a thicker sauce - and make them even more amazing-tasting and delicious.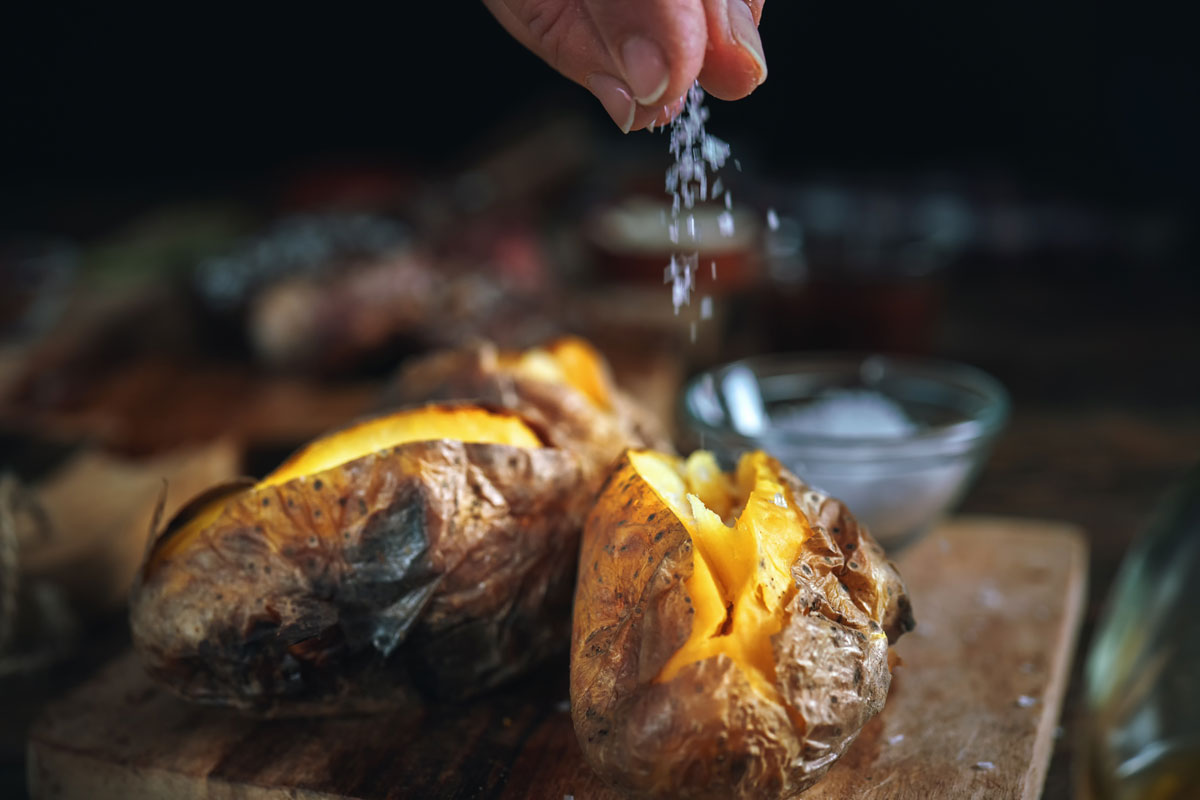 The method
Here are a few quick tips to follow when baking your potato:
Get your oven nice and hot by pre-heating, before you slide in the spud
Prick your potato with a fork (so it doesn't explode in your oven)
Roll your jacket potato in olive oil and salt for extra crispy skin
How to serve your jacket potato
You've taken your potato from the oven. Its skin is golden, glistening and crisp, but the soft flesh gives when you squeeze ever-so-slightly. Amazing.
You're almost ready for baked potato heaven.
Next steps before taste-bud town:
Pierce the skin with a kitchen knife
Press lightly to let out the steam – you want to be able to enjoy what you've created, not cremate your tongue!
Scrape a big knob of Anchor butter (or two!) on the hot potato
Season with salt and pepper
Add your topping – from ladles of curry to classic tuna mayo
Top tip: Serve your jacket potatoes on plates warmed in the oven. As well as stopping the butter solidifying on a cold plate, it's the best way to keep your food warm while you eat it
More ultimate snacks
Still hungry after you've consumed our top jacket potato ideas?
We've got loads more suggestions for moreish comfort food, from the ultimate fish finger sandwich to the champion of fry-ups.
Learn how to create some absolute classics with us.
¹ https://cipotato.org/crops/potato/potato-facts-and-figures/
² https://www.lovepotatoes.co.uk/varieties/fluffy-potatoes/maris-piper/