How to make the finest Full English
Sausages that are sublime
Bacon that tastes beautiful
Eggs done your way
Brilliant butter hacks
Fried bread sent from food heaven
The best mushrooms and tomatoes
Sausages
Butter
Bacon
Eggs
Extras
The English breakfast. The full English. The fry-up.
Whatever you call it, it's up there with fish & chips and chicken tikka masala contending for Britain's favourite dish – and there's nothing better to lift the spirits on a lazy Sunday morning.
Enjoyed everywhere from greasy spoons to posh hotels, the full English breakfast is loved by young and old, from Canterbury to Castleford, from London to Lancaster.
People have been merrily tucking into the classic fry-up since the early 1900s¹. Sausages, bacon, eggs and more – all served with a satisfying stack of hot, buttered toast.
But how can you make this culinary institution even more mouth-watering today?
Read on for amazing time-saving ideas, taste-boosting tips, beautiful butter hacks and brilliant cooked breakfast ideas, to help you create the ultimate morning feast.
Sensational sausages
In many ways, sausages are the centrepiece of the full English breakfast.
But there are some key things to consider on your quest for perfect bangers – from size and shape to seasonings.
Traditional or chipolata?
This comes down to one simple question: do you prefer your bangers fat or thin?
When you think of a fry-up, it's often built around a pair of plump sausages, with crispy, lightly caramelised skin.
But traditional 'fat' sausages aren't for everyone – and if that sounds like you, then you may preferer the chipolata.
These longer, thinner bangers are perfect for fry-ups. The smaller shape means you can get even more on your plate too.
Plain or flavoured?
One of the biggest debates. Are you in the flavoured, herby camp? Or do you prefer a plain pork banger?
Plain sausages let the meat, cooking and ketchup tell the story. But flavoured sausages can tantalise your taste-buds and transform your breakfast.
Perfect if you're looking for English breakfast ideas with a difference. Some favourite flavours include:
Lincolnshire sausage: Flavoured with sage, the Lincolnshire sausage adds a truly comforting feel to your fry-up. Cut into it and see the juicy pork flecked with green herbs.
Cumberland sausage: This curly sausage can deliver a breakfast plate with a difference. Formed in a spiral, it brings together tasty herbs and zingy spices for the perfect warming morning fry-up.
Tomato sausages: Complement the fried tomatoes on your plate with these beauties. The tomato is mixed with minced pork to create a sausage that's moist, juicy and light shade of red. Not to mention heavenly when dunked in ketchup!
Apple sausages: Pork and apple is a dream combination, and these make for a sweet, sticky treat. They smell incredible when cooking too – especially mixed with melting butter in a pan.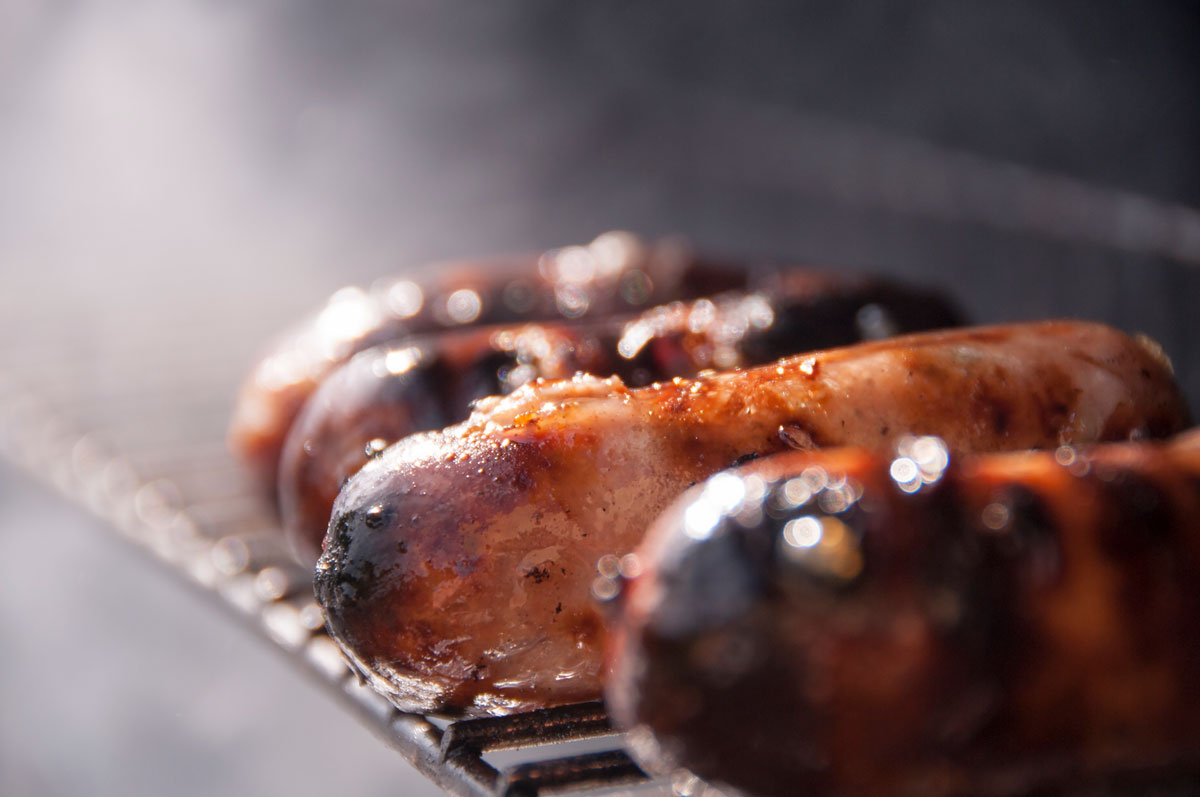 Alternative bangers
Sausages are traditionally made from minced pork, but you can get some interesting alternative options from your supermarket or local butcher:
Beef sausages, with black pepper and red wine
Chicken sausages, with apricot
Lamb sausages, with Middle Eastern spices
Nowadays, there are lots of options for meat-free sausages too. Vegans, vegetarians and flexitarians can enjoy the taste of bangers without the meat.
Top tip: Create fry-ups with an exotic twist by using sausages with flavours of red wine and garlic, fennel and rosemary, or fiery Indian spices. For an extra bit of comfort, serve your bangers in an ultimate sausage butty – with rich, creamy Anchor butter seeping into the meaty filling.
Beautiful bacon
Crispy or soft? Smoky or plain? Fatty or lean? Whatever way you slice it, bacon is a big deal when it comes to full English breakfasts – you only have to hear it sizzle with some butter and the spirits soar.
We've been eating this cured pork since the Middle Ages², so we've had plenty of time to get it right. Take your fry-up one step closer to food heaven and discover your bacon perfection.
Smoked or unsmoked?
Bacon comes in two main types: smoked or unsmoked. Both are cured, but smoked has a stronger flavour. Unsmoked bacon, meanwhile, is usually milder in taste.
Opt for smoked if you want bacon with a punch, and unsmoked if you prefer something subtler to go with your sauce.
Streaky or the full rasher?
Another big bacon debate, with passionate believers on both sides.
Streaky bacon is long and thin. Marbled with fat, it crisps nicely and is often served with maple syrup drizzled over the top.
Full rashers are shaped like a number '6'. They give you a nice flat slab of meat, edged with a half-inch of fat. Cook in a pan with a knob (or two) of rich, creamy butter 'til the fat is crispy and the bacon soft and tender.
Crispy or evenly cooked?
Get this one wrong and you could ruin breakfast in bed. Most folk like their bacon crispy or not, and it seems there's little in-between.
Crispy bacon delivers a satisfying crunch, and there's no stringy rind to contend with – not everyone's idea of fun. On the other hand, less well-done bacon is softer and juicier, perfect for folding onto your fork alongside a chunk of sausage, dipping in your egg yolk, or wrapping in a duvet of yummy buttered toast.
Top tip: Get the best of both worlds by chopping the top part of your bacon rashers, known as medallions, from the bottom (which has more fat).
Cook down the bottom bits 'til they are crispy like streaky rashers, then heat the medallions 'til nicely cooked. There you have it - the perfect blend of crispy and soft!
Eggs done your way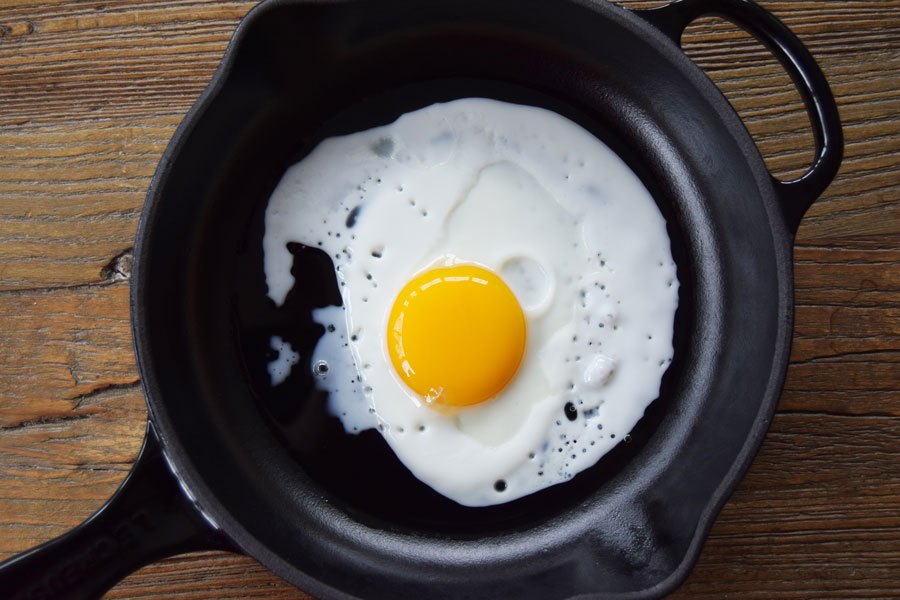 Eggs are always essential to the classic English breakfast.
But which way will you cook yours?
We've got some handy hacks for creating incredible-tasting ones worthy of a place on the best-ever fry-ups list.
Fiendishly good fried eggs
The classic option. Crack two eggs into a pan of hot (but not too hot) oil, and watch their whites solidify and blister.
Flick fat over the top of the yoke for a sunny side up, or flip the whole thing for a more firmed-up yoke. Rest on kitchen roll to soak up the oil.
Sublime scrambled eggs
Your breakfast deserves the best. So prepare to make these truly special.
Mix your eggs with salt and pepper and a dash of cream. Melt butter in the frying pan, swirl the egg into the pan, let it set slightly – then scramble away.
Perfect poached eggs
Poached eggs shouldn't be sniffed at. They're utterly delicious – especially when you get a runny yolk drooling onto your buttered toast.
Boil a pan of water, crack your eggs into saucers, swirl the boiling water then drop your eggs into the pan, cooking one at a time.
Top tip: Consider going for eggs with deep, dark shells. They often encase fabulously luxurious yokes.
Full English extras – choose your favourites
Naughty but nice fried bread
Fried bread is an integral part of your cooked breakfast.
With golden, crispy edges, cracked open to reveal soft, doughy white bread, it's a sublime addition to breakfast in bed.
Quick hack: How can fried bread taste even better? When it's turned into eggy fried bread, of course! Soak slices of doughy white bread in a seasoned egg mix and fry, low and slow in oil and butter.
Hash browns sent from heaven
Hot, crispy and golden. Hash browns are up there with the breakfast gods.
Deep-fried or oven-baked, hash browns alongside your sausage and eggs makes the perfect fry-up.
Quick hack: You've heard of Bombay potatoes – now create your very own 'Bombay' hash browns! Add a little curry paste to these beauties when cooking for supremely spicy results.
Beans made brilliant
The humble baked bean is the hardest working unsung hero in the kitchen. But breakfast is where it truly belongs.
Steaming hot beans, nestled beside your sausages. Just imagine that sweet tomato sauce pooling on your plate, ready to be mopped up with your fried bread.
Quick hack: Put some kick in your breakfast beans by shaking in a dash of tabasco sauce for a cowboy feel. Complete the picture with a flat sausage patty. For even creamier, satisfying beans, meanwhile, add a rich knob of butter while simmering to really bring the flavours to life.
Tremendous tomatoes
Tomatoes can take a starring role in your breakfast, if you know how. Slice 'em, season 'em and grill 'til their skins blister.
Slide them onto your plate, prick with your knife and watch the lovely juice ooze everywhere. Then pass the buttered toast to clean up.
Quick hack: Switch to smaller tomatoes and add some olive oil and pepper. Pile on your plate and spoon over the juice.
Magnificent mushrooms
Woody, earthy mushrooms, thickly sliced or quartered and fried slow and low. What could be better?
Watch as they turn a sticky shade of caramel. Then pile them onto your hot, buttered toast.
Quick hack: For added flavour, cook your mushrooms with a sprinkling of pepper, a knob of butter and even a few crumbled slices of blue stilton on top. Absolutely delicious.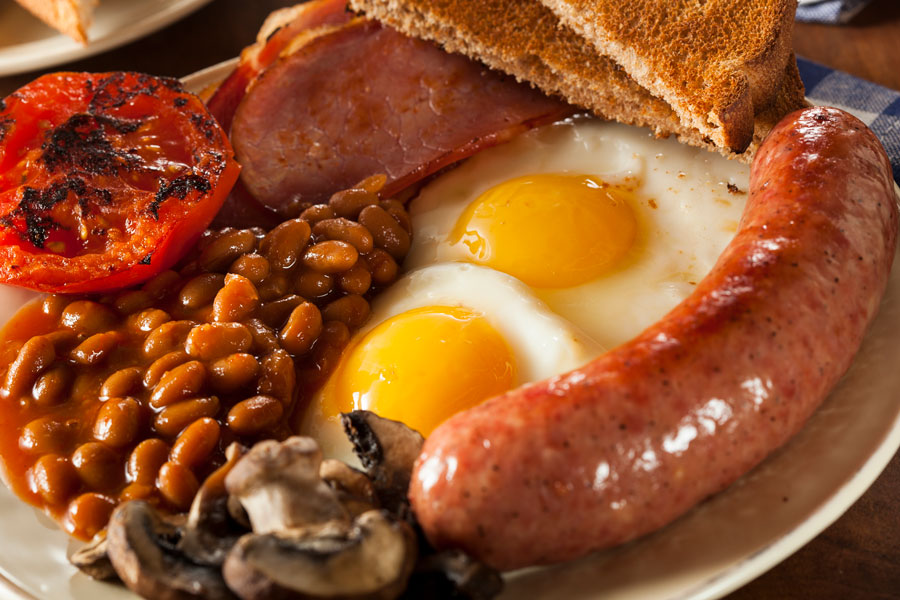 Bringing it all together
English breakfasts are made of many moving parts – but our top tips are here to help.
Pre-eating essentials
Warm your oven and trays before you start
Get all your ingredients/items onto the worktop
Put the pans you need on the hobs
Start cooking the item that'll take longest first (i.e. thick sausages)
Prep mushrooms and/or tomatoes
Mix your scrambled eggs, if having them that way
Fry your mushrooms/grill your tomatoes
Warm your plates
Stick your toast on – and have your butter ready to spread
Cook your eggs last
Plating up
The delicious finishing line is nearly in sight!
Toasters are popping and pans are everywhere – but don't lose it at the final hurdle.
Make sure you plate up all that loveliness the right way. Start with the items that will stay hot the longest – sausages and bacon, followed by beans and fried bread.
Last thing to add is the eggs and buttered toast (Anchor – of course), as they go cold more quickly. Stick the extra toast in the rack, the butter in the jar, the coffee in the pot. Then dollop on your ketchup or brown sauce, and enjoy the ultimate English breakfast.
More ultimate food and snacks
You've started the day with a brilliant breakfast. But what comes after?
Get ideas for everything from luscious lunchtime butties to moreish takes on supper classics with more of our inspirational food guides.
¹ https://www.englishbreakfastsociety.com/full-english-breakfast.html
² http://www.bbc.co.uk/newsbeat/article/34636901/your-bacon-questions-answered