Create inspired and delicious breakfast food
Handy hacks and time-saving tips
Take toast to a whole new level
Make amazing eggs in less than two minutes
Discover tasty, brilliant butter hacks
Breakfast is a big deal. In fact, the classic morning banquet is something of a British tradition. It can lift your mood on even the gloomiest of mornings.
Think of sizzling bacon on thick slices of white, fluffy bread. Picture hot, buttered crumpets and golden egg yolks overflowing like molten lava.
We, the Brits, are the guardians of breakfast heritage, the lauded creators of the famous full English – and, let us tell you, a limp piece of toast on a morning just ain't gonna cut it.
Whether you're rushing off to work or sauntering through the weekend, we've got all kinds of inspired breakfast ideas, buttery brilliance and ingenious food hacks up our sleeves.
Banish the mediocre and make something mega with these super-fast, super-delicious suggestions. You deserve the breakfast of champions – and this is how to do it.
Season your soldiers
Boiled egg and soldiers. A beautifully runny yolk with some golden buttered toast. An oldie but a goodie, and a true breakfast pleasure,
There's something wonderfully nostalgic about tap-tap-tapping the top of an eggshell with a teaspoon, watching the cracks appear and finally lifting off the top to reveal the steaming, golden delights within.
But, if you're not giving as much love to the toast as you are to the egg, then you haven't tasted this breakfast at its best.
Refocus your seasoning on those hot, buttered soldiers – sprinkling them with a pinch of salt and a generous grind of black pepper.
All it takes is a few seconds, but boy does it make a difference. Now you have the perfect foundation for every gooey, yolky dip – a seasoned combo that makes the whole thing sing.
Sauce it up
Your bacon sandwich is sizzling, your butter oozing – now all that's left is the sauce.
Tomato ketchup may be the long-standing king, with brown giving it a good run for its money. But to really kick your day off with a bang, see how you like these:
Sriracha and mayonnaise – creamy, tomatoey and with a fizz of spice, this is one to wake up your taste buds.
Yoghurt and mango chutney – refreshing, fruity flavours giving Britain's bacon sandwich an exotic makeover.
Lime mayo – like a fiesta in your mouth, with zesty lime, cool mayo and salty bacon all coming out to play.
Top tip: Make the bacon taste even better to begin with by frying it in a pan with a chunk of creamy butter, and some melted down rinds.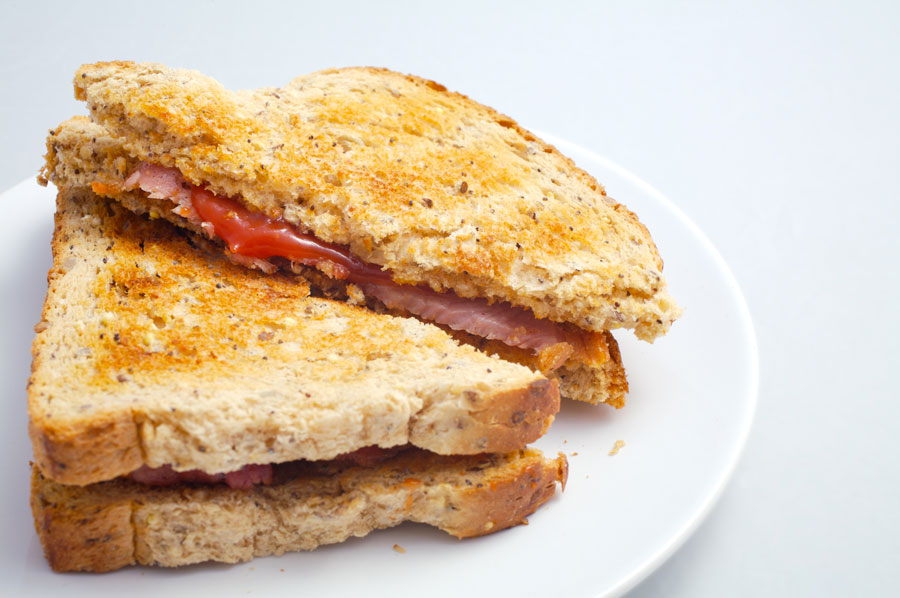 Discover the crumpizza
Hot crumpets are an absolute joy any day of the week – crunchy on the bottom, fluffy in the middle and oozing with melted butter.
On Sunday mornings when things are a bit more leisurely, why not give the humble crumpet a weekend makeover and serve with some extra pizazz?
Say hello to the 'crumpizza'. The perfect blend of British tradition and Italian flair, filling your breakfast plate with indulgent flavours and gooey textures. These are some of our favourite toppings:
Creamy brie
Thick, grated cheddar
Crispy bacon
Cherry tomatoes
Spinach leaves
Butter your crumpets, pile these beauties on, then slip 'em under the grill for a couple of minutes. Say hello to a breakfast feast that feels quite sophisticated, but whole-heartedly delicious.
Take that toast to a whole new level
Step one: move away from the toaster.
Step two: brandish your frying pan and whack up the heat.
For a hot, buttery slice that's off the scale, a minute or two on each side of the bread – with a dash of oil and butter – will take you to crispy toast heaven.
Flip more regularly to keep tabs on your toasting and make sure you get the colour just right.
Then lather on the butter. Afterwards, you can top with a slick of jam, a hunk of chunky marmalade – or whatever other favoured toppings you can think of.
Very berry
Next time you're at the supermarket, pick up some berries and pop them in the freezer.
Hey presto – when you wake up on a morning and you've got a hankering for an extra-special pick-me-up, your frozen berries are raring to go.
Blitz those babies up with a splash of milk for a summery accompaniment to your toast, or – for the mother of all quirky breakfast ideas – ramp up the fun scale and make smoothie ice lollies, frozen overnight, ready to enjoy in the morning.
These lollies also go down an absolute treat with the kids. So if you're dreaming of a peaceful school run, this could be just the ticket.
90-second scrambled eggs
Ninety seconds. One and a half minutes. That's faster than Michael Phelps can swim 200m – even in world-record time.
But to make a breakfast worthy of an Olympian, all you have to do is whisk up a couple of eggs with a dash of black pepper thrown in for good measure.
Whack them in the microwave for 45 seconds – stir stir stir – back in for another 30 seconds, check that they're cooked, and would you believe it, scrambled eggs are served.
Light and fluffy, rich and creamy, this is a dream on busy mornings. A mighty vegetarian breakfast in no time at all.
Top tip: To make your eggs taste even more luxurious, top your feast with a dollop of original Anchor butter – and let it seep into the egg bed for added richness and flavour.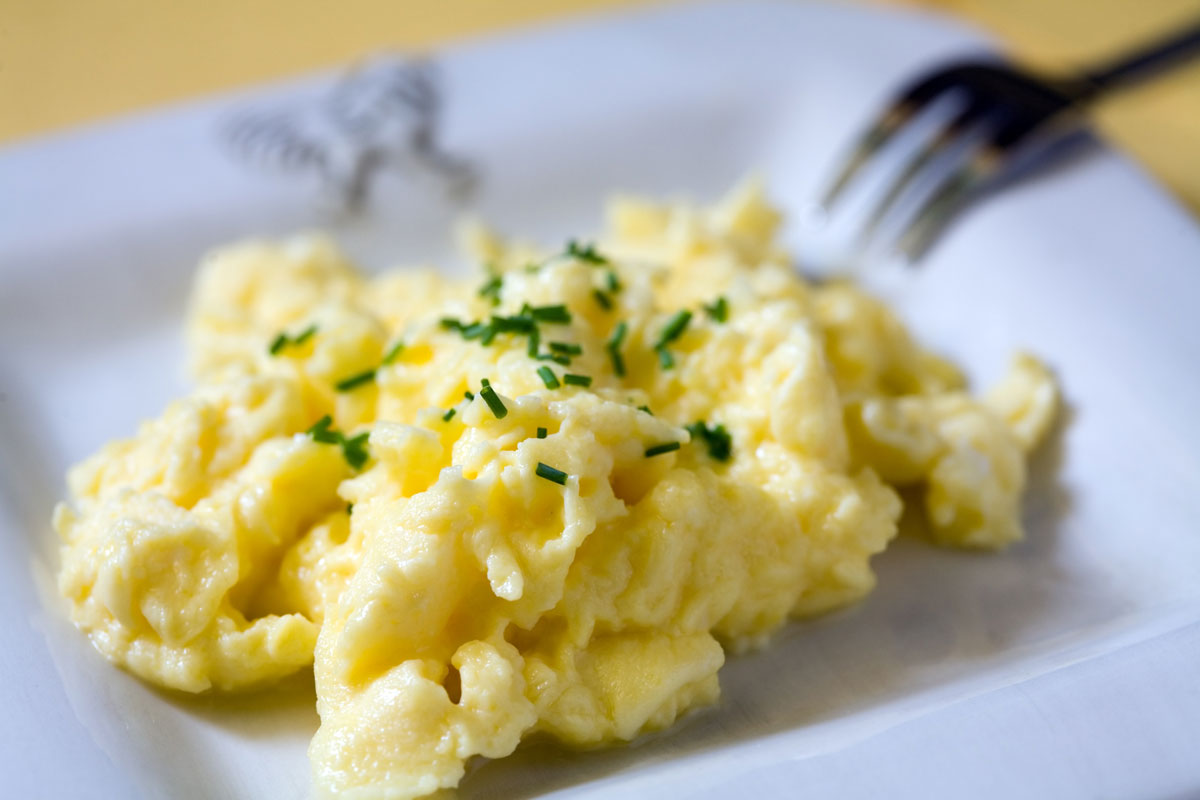 Double butter
When Friday finally comes strolling through the door, many of us are chomping at the bit for a sausage sandwich or bacon butty.
For an extra dose of taste and texture, slide your butter knife over the outside of your sandwich as well as the inside, and then pop it in the toastie maker (or into a hot pan).
Let the butter work its magic, taking your sarnie to whole new levels of irresistibility.
It'll be crisp and golden on the outside – making a big, satisfying crunch with every bite – with that sumptuous filling waiting in the middle.
Bacon with a twist
For something a little different, whether you're making a full English breakfast or a sarnie, try drizzling your bacon with a dose of thick, glistening maple syrup before you pop it under the grill. The smoky and sticky result is a real winner.
Layer your maple bacon inside a fluffy buttered roll or get some pancakes on the go. However you serve it, this flavour sensation will have you daydreaming all morning.
For some, the magic ingredient for a drool-worthy bacon sandwich is actually peanut butter. Trust us.
Apparently this combo has become almost as popular as jam in recent years. And if you're a fully-fledged member of the peanut butter craze, why not try some of the chunky variety with some smashed banana and bacon on toasted, buttered bread?
Unconventional maybe – but it might just become your favourite breakfast thing.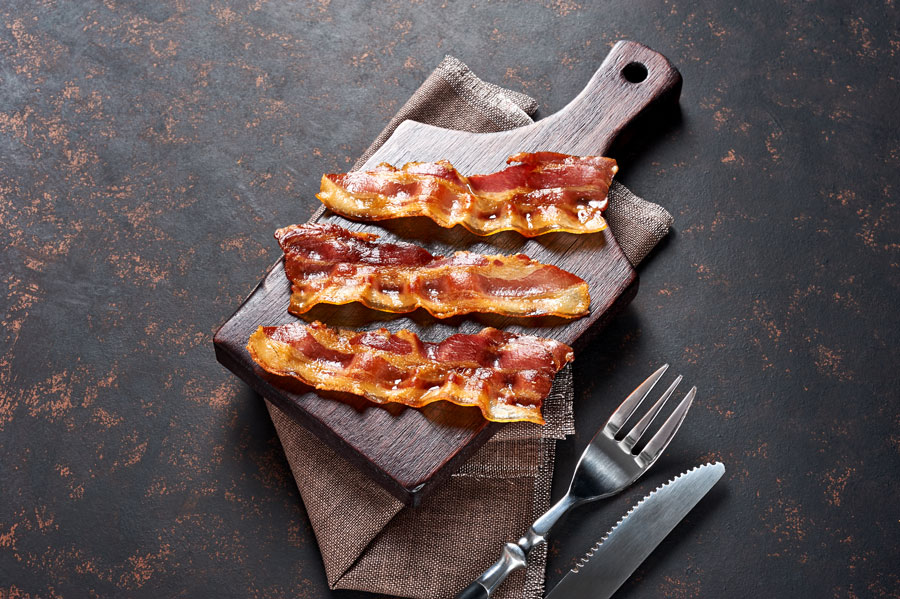 Enjoy what you've created
Perhaps most importantly, feel great for creating a tasty breakfast in record time on a busy day, or savour the pleasure of a truly special feast on a lazy weekend. G'wan, give yourself a pat on the back! You've earnt it.
Sink your teeth into these indulgent, buttery breakfast ideas and make every morning a mouth-watering affair.
This is your post-snooze banquet, your sunrise feast – and you deserve something truly marvellous to brighten up your day.
More ultimate food
We all love creating and sharing those perfect food moments, and there are plenty of comfort food classics that can be perfected into their ultimate form.
We've got every meal of the day covered, from breakfast ideas to lunch ideas to supper inspiration. Make delicious snacks and the best sandwiches with our mouth-watering guides.