How to create the ultimate BLT
Find the best bread
Achieve bacon perfection
Locate top lettuce and tomatoes
Explore exciting extras
Discover delicious side, butter and sauce tips
The BLT is comfort food royalty. So-loved by eaters everywhere, in fact, that this superb sarnie goes only by its initials – like a culinary celebrity.
Three layers of classic loveliness married together by chunks of bread and rich, creamy butter, the bacon, lettuce and tomato sandwich became popular in the diners of the 1950s and '60s, but actually owes its origins to the Victorians¹.
Over the decades it's become one of Britain's most beloved food institutions – even taking its place in the nation's top 10 sandwiches².
Today, that classic combination of juicy, crispy and sweet more than holds its own against the new generation of sarnies. But how can you make your BLT tantalise those taste-buds like no other?
Check out our guide of handy filling, butter and sauce hacks for creating the best BLT sandwich – without an avocado in sight.
The bread
The butter
The filling
The extras
The sauce
The bread
You can't make a sandwich without lovingly buttered bread. Everyone knows that.
But with a butty like the BLT, stuffed with several sumptuous heaps of deliciousness, the bread is super-important. Sure, it has to taste incredible – but it's got a serious job too: containing all that tasty, ready-to-burst out filling.
Some top options include…
Crusty and thick
Hand-cut bakers' loaves such as farmhouse or cob combine taste with substance. Think thick slices of soft bread, coated in Anchor butter and edged by golden, crisp crust. Gorgeous.
Sliced loaf
Slightly thinner slices than a hand-cut loaf means more space – and time – to stack. Let your bacon, lettuce and tomato do the talking.
Speciality breads
Already packed with flavour, the BLT has no real need for foodie show-offs like olive bread.
But white sourdough and doughy tiger are strong, hearty options if you want to push the boat out. They make great cushions for the all-important butter layer too.
Brown or white?
Traditionally, the BLT sandwich is made with white bread. But it also tastes good with a malted, granary style loaf. Avoid wholemeal, as this takes a bit more chewing.
Toasted or not?
The BLT is packed with juicy and creamy ingredients – and that's before you even add the sauce. Lightly toasted bread is a must, just enough to form a crunchy crust that stops the filling soaking through your bread.
It also adds a lovely robust ying to the filling's yang – creating a really satisfying 'bite'.
Top tip: Butter is the perfect base layer for your BLT – mingling with the mayonnaise and juicy tomatoes, then dripping down the edge of your crust. Make life easier by choosing a spreadable that can be lathered on right from the fridge.
The filling

Now we're down to business. Is there a better combination of comfort food flavours and textures to be found anywhere beyond the BLT?
Crispy, smoky bacon fried with a knob of butter. Juicy, tangy tomatoes. Lettuce – fresh and crisp.
Here are our top tips for filling up the best BLT.
The bacon
With its soft, chewy smokiness, crispy fat and heavenly smell, bacon is often thought to be the main event here.
Choose wisely, fry in a pan with delicious butter, or face certain BLT failure.
Smoked: Tradition says smoked bacon is essential to the BLT. Choose regular smoked or opt for Applewood-smoked to take you sandwich to new heights.
Thick cut: The best BLT will be packed with thicker cut bacon – available from most supermarkets and local butchers. This will give you even more of that smoky, meaty flavour.
Back bacon: Streaky bacon has its place, but back bacon rashers offer the perfect combination of lean meat and crispy fat. The textures are a taste explosion.
Top tip: Make bacon that tastes amazing by snipping the fat from the bottom of your rashers and frying low and slow 'til it melts into a puddle in your frying pan. Mix with a knob of butter and fry your rashers in this ooze. They'll taste deep, rich and meaty, with a lovely caramelised edge.
The lettuce and tomatoes
If the bacon is the headline act, then the lettuce and tomatoes are the main support.
Where the bacon is big and bold, the lettuce and tomatoes are sweet and subtle. Without them, you'd have nothing more than a standard bacon butty. And that's a fact.
Little gem: You need something with flavour and texture. Little gem is a tiny lettuce that sits in your palm. Its sweet leaves³ are both crisp and soft and the perfect size for a sandwich.
Romaine lettuce: For a sub-style BLT sandwich, try romaine – its long, oval leaves are packed with juiciness.
Beef tomatoes: Choosing a tomato you can slice and lay along your sandwich is a must. The beef, or beefsteak tomato, is perfect for your BLT. Dash with salt, black pepper and a little glug of olive oil before building your stack.
Top tip: Want to create the best BLT? Don't use iceberg lettuce. Its watery leaves can mix with the tomato juice, leaving you with a soggy sandwich. For a fuller flavour, you should also consider vine-ripened tomatoes. Just wait 'til you've tasted one.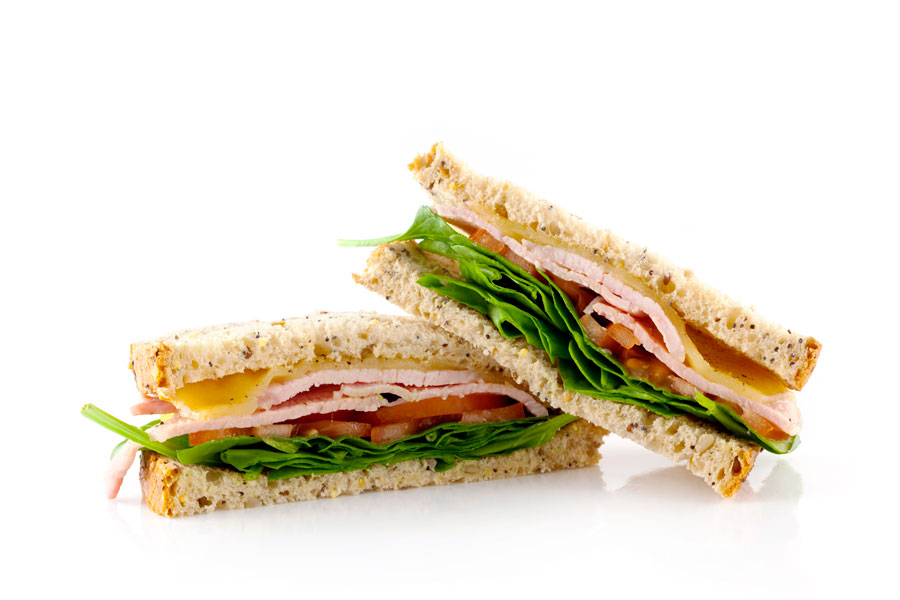 The extras
So you've got a barnstorming BLT in the offing. But how can you make it even better?
Crisps and fries
A smattering of smoky crisps or crunchy French fries on the side of your plate will act as a cracking complement to the sarnie.
You can even use them to mop up any excess sauce or butter that makes its escape.
Chicken
Add some slices of griddled chicken, perhaps even swaddled in a garlic or herb butter, and you can transform your BLT into another famous butty – the rather posh Club Sandwich.
Egg
Add an egg to create an amazing 'BELT' sarnie, making you the envy of hungry onlookers everywhere.
Boiled slices will do the job, but there's little better than a butter-fried or poached yolk punctured all over the filling, drooling down from the top of your stack.
Top tip: Choose things that complement the OG concept rather than reinvent it. Experiment with different types of lettuce and tomatoes. Try thicker or thinner cut bacon. Can a bacon chop make the best BLT? You won't know until you try it…
The sauce
You're almost there. The stack's assembled – and it just needs that finishing touch. But what's the best squeeze to go with?
Ketchup
Classic ketchup might seem like it's surplus to requirements given the 'T' in BLT, but squirt some on below your bacon base for double tommy joy.
Mustard
A hint of fiery tang on the buttered bread can be just the ticket if you're after some heat with your sandwich. Just remember to go easy when adding.
Mayo
One sauce is king in town when it comes to the best BLT, or any BLT in fact – and that is mayonnaise. Invest in a good shop-bought mayo – firm, creamy, tangy and slightly wobbly.
Top tip: Spice things with up with a few drips of hot sauce and a cheeky twist of black pepper. Go easy though – it's subtle heat you want. Anything more will overpower the flavours of the BLT.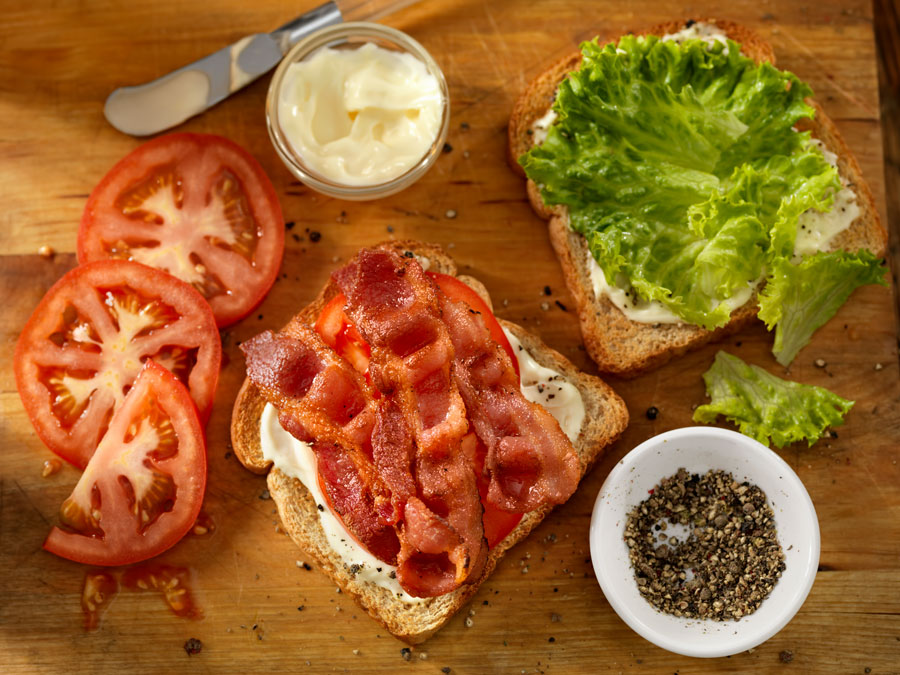 The method
These handy hacks will take your snack to a whole new level.
Tastiest bacon
Fried rather than grilled will deliver taste and texture, and make your BLT altogether more luxurious.
If you do fry your bacon, do so in a sensational combo of creamy butter and the melted fat of bacon rind – either snipped from your own rashers or begged from the butcher.
Heavenly bread
Slice no thicker than around ¾ of an inch, then lightly toast it to prevent the sauces from soaking into the bread – before lathering on some tasty Anchor spreadable.
If you want to really go for it, lightly fry the bread in the last few drags of bacon fat.
Terrific lettuce and tomatoes
Slice your tomatoes around ½ an inch thick, then add salt, pepper and olive oil. Add whole leaves from a little gem or romaine lettuce, patting dry after washing to ensure ultimate crispness.
With that, your BLT sandwich is ready to go.
More ultimate snacks
Craving more bacon? We can show you how to create the ultimate English breakfast. Or perhaps it's lunchtime tips and supper hacks you're after? Tuck into the rest of our inspirational food guides and let us know how you get on.
¹ http://www.foodtimeline.org/foodsandwiches.html#blt
² https://www.express.co.uk/life-style/food/741438/sandwich-favourite-uk-ham-cheese-fish-finger-chicken-bacon-blt
³ https://www.britishleafysalads.co.uk/know/leaf-guide.shtml