Make the ultimate melted cheese snack
Top tips for belting bread
How to select the choicest filling
Getting the butter, extras and sauces just right
Hot, melted and crispy, for generations the classic cheese toastie has been Britain's ultimate comfort food.
It's been our evening fix and weekend pick-me-up for so long, we sometimes forget just how brilliant the humble cheese toastie is.
Over the years, it's become so much more than a simple pleasure. It's our home from home, our total comfort zone.
So, here's our top tips on how to make this happy little snack even more bold, brilliant and better. It's how we like it. Deliciously cheesy and delightfully buttery. Soft and sweet with a dollop of love.
This is how we make the best cheese toastie every time.
The bread
The butter
The cheese
The extras
The sauce
The bread
When it comes to cheese toasties, choosing the right bread to butter and fill is like choosing the right pair of sunglasses – only way more important.
After all, you can't eat a pair of sunglasses.
Bread can make or break your cheese toastie, so make sure you choose the right kind. So long as you stick to one of these carby candidates, you won't go too far wrong.
Tiger
If you like your crust crunchy, tiger bread works a treat. Get an unsliced loaf so you can give yourself inch-wide slabs, and spread the butter lovingly on both sides so each is equally golden and tasty.
Ciabatta
Now here's a bread that knows cheese almost better than any other.
Renowned for its supporting role in tasty lunches up and down the country, ciabatta is spongy with a firm crust – giving you that satisfying crunchy bite before your taste buds reach that gooey filling, and providing perfect 'dimples' for the molten butter to seep into.
Seeded
Another star on the bread aisle Walk of Fame, this one can handle a range of delicious sandwiches and toasties. Again, lay the butter on thick before toasting – and maybe even after too, just to make sure it got the message.
Top tip: When it comes to slicing your bread, play by this rule: the denser the bread, the thinner the slice. That way the cheese will melt while the bread's toasting.
If the bread's too thick, it'll bear the brunt of the heat – leaving the cheese cold in the middle. And nobody wants that.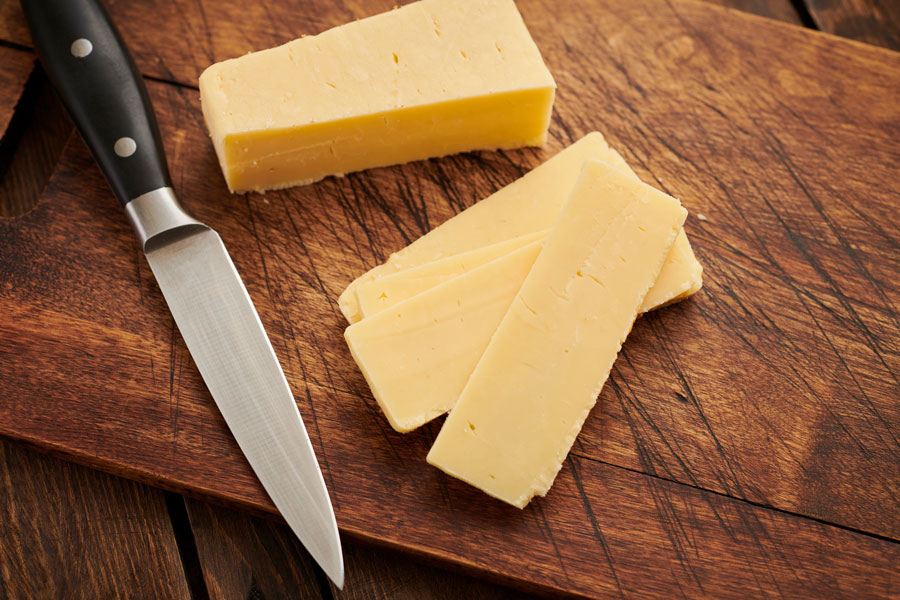 The cheese
This is where things get serious. Back away from the pre-sliced cheese. Put down the cheese spread. And for heavens sake, don't even look at the squirty cheese!
Not sure what to go for instead? Don't worry. We've got you covered.
Gouda
The clue's in the name: this is good cheese for a toastie, mainly because it melts better than most of its rivals.
Just a few moments between two slices of bread is long enough to turn this bad boy into a splendid sauce, blending beautifully with the golden butter layer.
Stilton
Once you've tasted blue cheese, there's no going back. Try it in a cheese toastie and you'll see it in a whole new light.
Rich and creamy, it melts perfectly – giving you that sharp, salty flavour and warm, velvety texture with every bite.
Cheddar
If you prefer to play life with a straight bat, there's no harm sticking with the tried and tested.
Gorgeous mature cheddar is a classic that's been propping up the fridge for decades. And it'll be around for a lot longer too – so well-loved is its tangy, buttery flavour.
Top tip: Blending cheeses can work surprisingly well. A sharp cheddar pairs well with gouda – and you can even line the toastie with cream cheese to bring the Holy Trinity together.
The extras
However oozy the cheese and crispy the toast, it's the extras that separate the gourmet feasts from the same-old snacks.
And this is no soggy, sorry cheese toastie – make your sandwich a game-changer with these amazing extras.
Tomato
If you want something extra-juicy and satisfying, consider adding slices of rich beef tomato to the cheesy mix. It'll add a whole other dimension to the snack.
Crisps
We couldn't get away without mentioning the nation's go-to snack. Whether you're sprinkling them on the side of your plate or tucking them between the bread, crisps have a role to play in every cheese toastie combo.
Onions
Lancashire has given us a lot: the jet engine, red bricks – and cheese-and-onion toasties. White or red onions are fine; just make sure they're fried, with a bit of butter to make them even more delish, before throwing them into the mix.
Chicken Tikka
These grilled, spiced and thoroughly delicious pieces of meat are often the crowning glory of an Indian meal.
But try slipping some sliced strips of the marinated chicken into your toastie, and you'll be blown away by the taste sensation that results, as it marries perfectly with the butter and cheese. Brace yourself for extra tang and heat!
Top tip: Mushrooms or chorizo also make delicious extras (throw a little butter on when cooking to make them even more dreamy). If you're feeling especially bold, you could even finish the job with a cooked egg on top.
Basically, treat your cheese toastie like a pizza – whatever your favourite toppings are when you're ordering your Saturday night deep pan, you can invite them to the party here, too.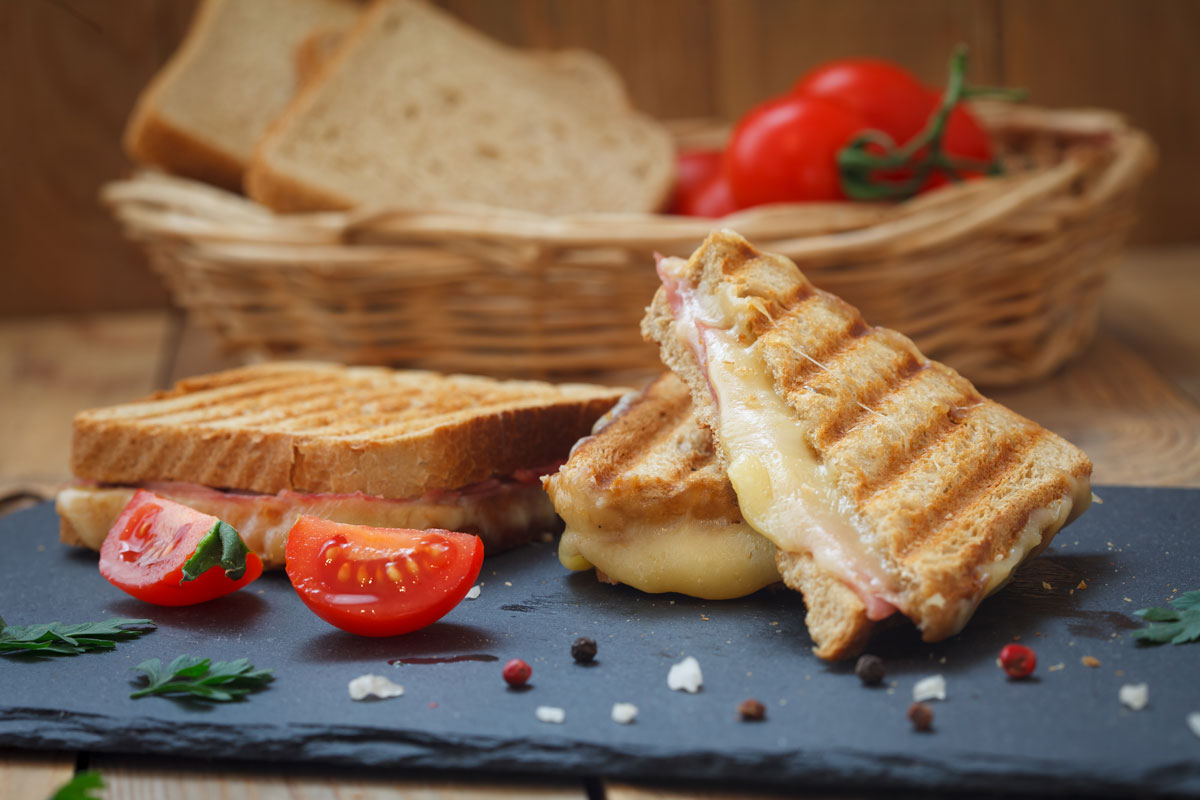 The sauce
Gone are the times where the only sauces you could buy were red, yellow or brown. These days you can fill a small dictionary with the options you'll find down your local supermarket.
Here are some of the mightiest.
Ketchup or brown
Without doubt, the classic sauces to dip your toastie into are tomato ketchup or brown. Go tomato for a sweeter option – brown if you tend to crave salt.
Tomato generally goes down better for kids snacks too.
Worcestershire
There's a reason why so many of us have this secret weapon in our pantry. Adding a few drops to your buttered bread will embed its spicy, fruity, vinegary flavour and add sharpness to the cheese.
Yorkshire sauce (which has no anchovies) also works well.
Hot
From mild to wild, there's a hot sauce for everyone – and it's so addictive you'll soon be having it on everything. Its spiritual home is very much on a cheese toastie however, with chipotle, sriracha or Jamaican-style blends all good calls.
Or there's always room for a dash of good old-fashioned English mustard. Feeling bold? Why not mix up your very own creation by adding chili flakes or some chopped jalapenos to ketchup, melted butter, or your other favourite sauce of choice.
Top tip: If you're going for hot sauce, don't go too far. Anything more than a few strategically placed drops will disguise the taste of the cheese – or take the roof of your mouth off.
The method
One of the real tragedies of modern life is preparing the best toastie, only to see it all fall apart once it's heated.
From burnt cheese to torn bread, we've seen it all. But you can avoid disaster with these sure-fire tricks.
Grilled
Butter the bread on both sides, stick your toastie under the grill and, once the cheese is sizzling golden, whip it out.
You'll need to keep your eye on it – the line between 'ready to eat' and 'only identifiable through dental records' is frightfully thin.
Toasted
Thanks to the miracle of toasting bags, you can make cheese toasties without flipping the thing on its side.
Just prep your toastie as if it were a sandwich, slip it into the bag and plunge it into its new life. If you have a dedicated sandwich toaster, you're already winning.
Fried
Why not give the toaster a break and make perfectly crisp, buttery toast in a frying pan? This way you can add powders, oils, butter and sauces as you go.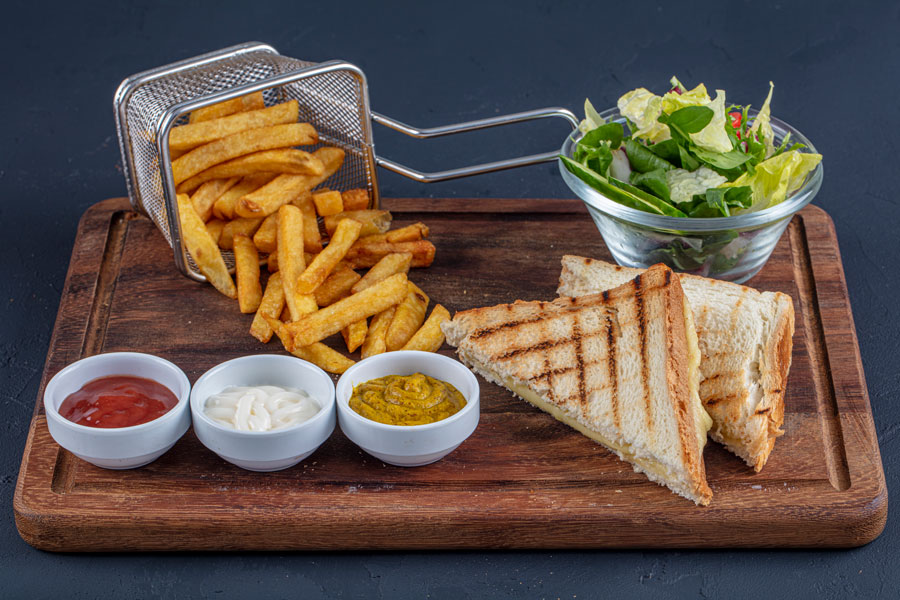 Top tip: Before you tuck in, take a moment to admire what you've created. Get your prize up on its podium (your favourite plate) and let its glory shine: the perfectly butter-crisped sides, the moist top and bottom, the advert-standard cheese oozing just enough from its middle.
Boy oh boy, have you made an absolute belter. In a couple of minutes it'll all be over, and you'll be sliding your plate into a dishwasher rack. But two minutes in heaven isn't half bad – and that's what the ultimate cheese toastie is all about.
More ultimate sandwiches and snacks
We all love creating and sharing those perfect food moments, and there are plenty of comfort food classics that can be perfected into their ultimate form.
We've got every meal of the day covered, from breakfast ideas to lunch ideas to supper inspiration. Make delicious snacks and the best sandwiches with our mouth-watering guides.