Make an amazing chip butty for any occasion
Top tips for creating the perfect bread-to-chip consistency
Inspirational butter and filling hacks to upgrade a simple chip butty
Delight your taste-buds with delicious sauces and extras
Whether you call it a chip butty, roll, bap or cob, this delicious sandwich is easily one of Britain's favourite comfort foods.
Filled with steaming chips, slathered in creamy butter and squeezed between chunks of fresh bread, this 3-ingredient masterpiece is quick to make and delicious to eat.
Perfect for a lunchtime treat to make your colleagues envious, a home alone snack, or an evening meal for the whole family, there's simply never a situation where a simple chip butty doesn't come out on top.
And while this heaven-in-a-mouthful dish may be a popular classic, it's easy to make it even more incredible with a few simple hacks.
Whether you're a curry sauce champion or a chip shop connoisseur, we have you covered. Follow our handy tips on how to make the ultimate chip butty, from the buttery spread to the quirky extras, and tuck in.
The bread
The butter
The filling
The extras
The sauce
The bread
Classic chip butties are so widely celebrated in Britain, there's even a song about them¹.
However, with only a few components involved, it's vital you get them right. Here's our top three contenders for the perfect butty bread.
Brioche
There's a reason why brioche buns are fast becoming the chosen bread for burgers. They're soft and light yet irresistibly buttery, with just a hint of sweetness.
Add a dollop of butter, a handful of chips and a squeeze of sauce and press together for a melt-in-the-mouth taste sensation.
Ciabatta
Slightly tougher in texture, the ciabatta roll is the ideal choice for keeping your loaded chip butty firmly in place.
The crisp and chewy bread perfectly complements the soft and warm chips inside, while the butter seeps into its airy pockets.
White loaf
Chip butties are all about the carbs, so skip the wholegrain and brown bread and go for a classic white slice. Cut two thick slabs, spread the butter evenly on both sides and fill to your heart's content.
Top tip: If you're using crispy bread such as ciabatta, lightly toast it beforehand.
Not only will this soften the dough on the inside, but your butter will melt into every crevice.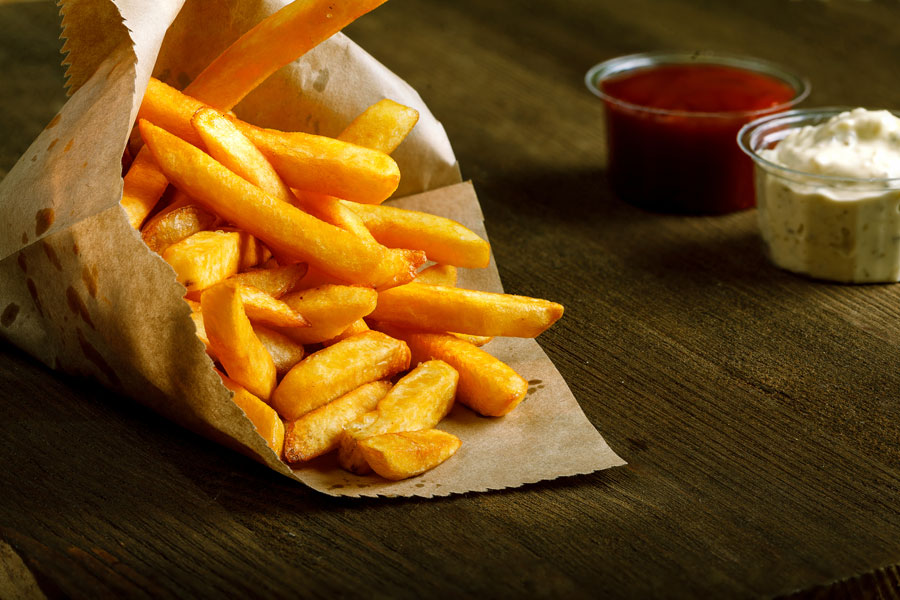 The filling
There's only one key ingredient in this signature sandwich – so it's crucial to get the chips right.
Make them too soggy and your sandwich will end up floppy and lifeless. Too hard and you may as well ditch the chips for your favourite bag of salt and vinegar crisps.
So, what makes the best option? We've got a few suggestions.
Chip shop chips
Take a leaf out of the classic takeaway book and use your fish and chip leftovers from the night before to recreate that magical moment all over again.
We recommend reheating your leftover chips in a pan, together with a dash of rich Anchor butter, to add some crispiness and colour – save them from going soggy.
French fries
A chip butty may be one of Britain's favourite staples, but add an American twist to your sandwich by swapping out the chunky chips for crisp skinny fries.
Not only will you be able to fill your butty with even greater heaps of filling, the fluffy interior against a crispy outer shell gives you the best of both worlds with every bite.
Potato wedges
Transform a classic chip butty into a gourmet offering by using wedges over chips.
Sprinkle with a dose of salt and pepper and squish in between two buttered slices of bread for the perfect feast. Ideal if you've got some left over from a party, or want to reinvent the party food at your next family gathering.
Top tip: To stop your chip masterpiece from toppling over, try to pick out chips of a similar size and stack them in layers. Picture the Great Pyramid of Giza, only tastier.
The extras
While a classic chip butty will certainly fill you up, it's also incredibly easy to customise this simple sandwich into something unique and brilliant.
Here are some easy ways you can upgrade the chip butty and make yourself a snack sensation.
Fried egg
The beauty of the chip butty is that it doesn't matter what time of day it is. It always delivers.
Craving fluffy potato yumminess at breakfast? Stick a fried egg on top of your delicious stack of chips for a breakfast sandwich with a difference. A punctured yolk mixing with the creamy butter above, filling in the middle and butter below adds even more richness and yumminess.
Cheese
What isn't made better with a bit of cheese? Combine your love of all things cheesy with the comfort of a chip butty for the ultimate treat.
When making your next cheese toastie, add a handful of chips and a coating of butter and tuck into gooey deliciousness.
Fish fingers
Family friendly and simple to serve, fish fingers and chips go together like bread and butter – and combined they become The Avengers of sarnies.
Add a squidge of lemon and a dab of ketchup for a teatime treat your loved ones are sure to gobble up.
Top tip: Break free from your chip butty bubble and get creative with your extras. Add mushy peas, sprinkle on the spice, or slide bacon – fried with butter and melted rinds – in between the chip layers.
When it comes to mixing up a chip butty, picture your favourite sandwich fillings. Then imagine the chips firmly inside the bun, not just thrown to the side.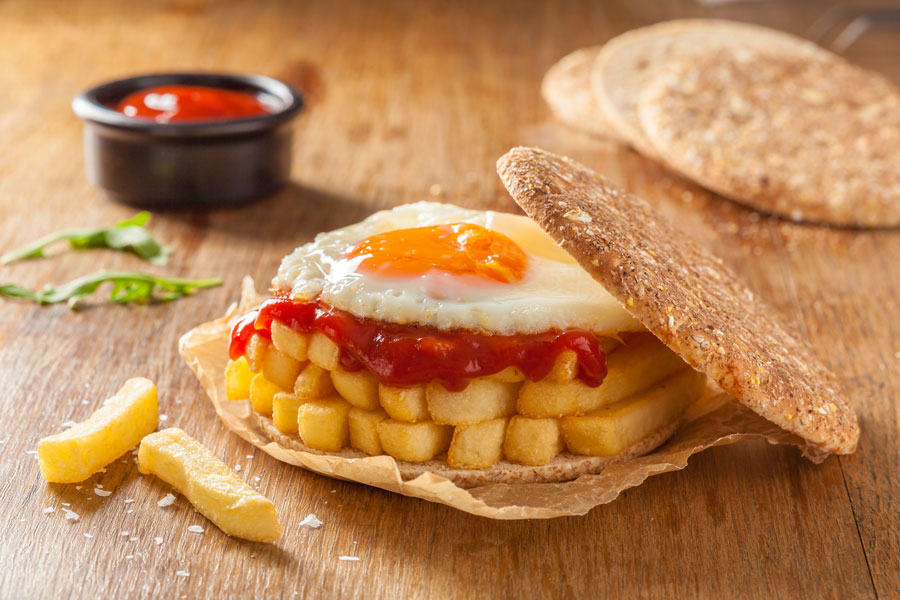 The sauce
While a good chip butty can happily consist of chips, bread and butter alone, don't be afraid to smother your concoction in plenty of sauce.
Ketchup
When digging into a side of chips, we instinctively reach for the ketchup. Placing your chips between two slices of buttered bread doesn't mean that needs to change, either.
Forget a drizzle. Grab your ketchup bottle and coat your chips in a thunderstorm of sauce – so much it sploshes out the sides.
Curry
When reusing your leftover fish and chips order, save some chip shop curry sauce. Both savoury and sweet, with just a small kick of spice, this delicious stuff soaks into your bread and chips for a mouth-watering texture.
Alternatively, add an Indian curry sauce such as tikka masala, rogan josh or balti on your chips for an even heartier dose of heat.
Gravy
Let's face it, we've all craved chips and gravy on a night out. So why not satisfy your hankerings with a chip butty buried in thick gravy every once in a while? We won't tell.
Top tip: Another way to improve the flavour of your chip butty is to add sauce to your chips before cooking.
Mix some herbs or garlic with butter – easy to make and delicious to savour. Spread it over your chips of choice before popping them in the oven to soak up the flavour. For an exotic kick, you could also try coating your chips in a dash of turmeric too.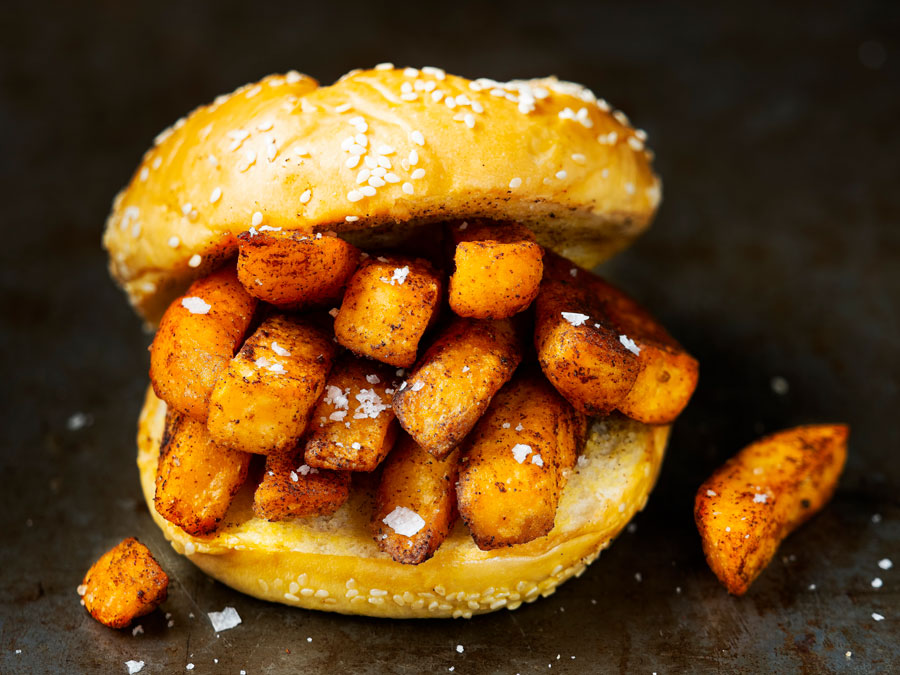 The method
Now we've got you drooling over your choice of ingredients, its time to master the method.
But how to make a chip butty truly sing? Check out these easy ways to perfect your masterpiece.
Oven cook
Whether you're using thin-cut fries, thicker chips or wedges, it's simple to get your filling nice and crisp by sliding them into the oven.
Drizzle on your butter to bring out the flavour and a sprinkle of seasoning, and pop them into the oven to bake. Remember to turn them half-way so they crisp on both sides.
Pan fry
Fish and chip shops may have the advantage of a deep fat fryer, but pan frying your chips is a winning alternative.
Heat a large saucepan with oil and butter, and gently add your chips to sizzle. Once golden-brown, remove and allow them to drain on a wad of kitchen roll.
Top tip: Double cook your chips or wedges to get an amazing crunch and taste.
Fry them on a low temperature inside a deep pan for a few minutes before allowing them to drain. Once dried, pop them in more oil and place on a high heat to get golden, crisp results. Then assemble your stack, marvel at your genius, and get ready to tuck into chip butty perfection.
More ultimate snacks
While a chip butty can be proudly served at any time of the day, we have plenty of food ideas to keep your plates bursting with flavour.
Discover more great sandwich hacks or get creative with the ultimate breakfast and BBQ foods using our tasty guides.
¹ https://www.goal.com/en-gb/news/greasy-chip-butty-full-lyrics-to-sheffield-uniteds-famous/5rrqdu8ofxnm13uz83s9q7uxx