Make the ultimate fish finger sarnie
Get the best bread
Find the tastiest fillings
Discover ultimate butter hacks
Sauce it up in style
Tasty, satisfying and simple to make – the fish finger sandwich might just be a contender for Britain's greatest comfort food.
Best of all, this classic snack can be upgraded with a few delicious additions.
Here's our guide on how to choose the finest bread, the perfect butter and the greatest sauces to create the ultimate fish finger sandwich.
The bread
The fish fingers
The extras
The butter
The sauce
The bread
Choosing the right bread is essential for any great sandwich. Pick well and you're on your way to food perfection.
Pick poorly, and you could have a sloppy mess on your hands.
White
There's something genuinely homely about a fish finger sandwich made from two slices of good-old fashioned white bread, with a great big smattering of butter spread on to melt into the filling.
Try using a freshly baked sliced loaf for your sandwich, and enjoy as a great afternoon snack.
Brown
Brown or wholemeal bread adds a nutty, malty taste to a traditional fish finger sandwich. It's firm in texture and when paired with some crunchy fish fingers, makes a really moreish sandwich to tuck in to.
For an extra burst of flavour, granary or seeded bread can pack a little extra taste into your snack.
Bun wrap?
Instead of using sliced bread, you could switch things up with a bread bap – or even a wrap. They can soak up all that oozing butter and sauce, hold in all the extra ingredients and provide a burst of flavour every time you take a bite.
Top Tip: If you're really pushing the boat out and want to make the best sandwich possible for a posh tea, use tiger bread or sourdough.
Both have a unique taste that adds a modern twist on the British classic, and make an especially robust foundation for all that amazing-tasting butter and filling. You can find them in the bakery aisle at your local supermarket.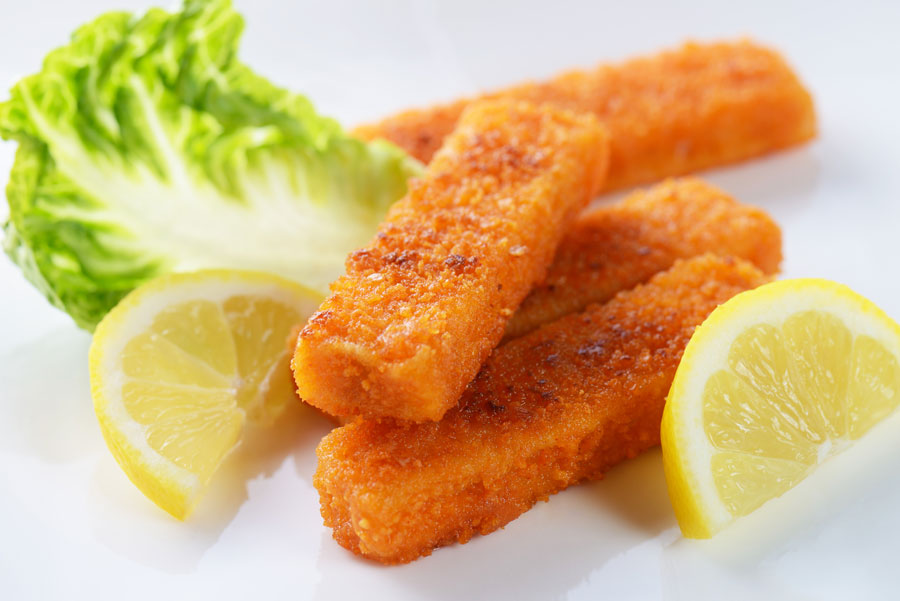 The fish fingers
Okay, down to business: this is why we're here. Get this part right and you've got a seriously tasty meal on your hands.
These days, there are plenty of different types of fish finger to choose from. Cod's not your only option any more. Haddock is fast catching up as the nation's favourite, while new alternatives like pollock are also hitting the freezers.
Cod
Slightly sweet and deliciously flaky, cod fish fingers make for a fantastic traditional sandwich.
You can buy in bigger quantities at the shops, so if everyone needs a quick and easy evening meal, they're the perfect option that the whole family will love tucking into.
Haddock
Haddock has a tender texture and a sweet flavour that melts in the mouth, making it an ideal choice for a tasty fish finger sandwich.
Haddock fingers are cheap – and only take around 10-15 minutes in the oven to get nice and crispy on the outside.
Breaded or battered?
When it comes to the coating, there's a crucial choice to consider. Breaded fish tends to be flakier and crumblier, while battered has more of a crunch – and adds that traditional chip shop flavour to your bread and butter base.
Top tip: Try pollock as a tasty alternative to cod and haddock fish fingers. It has a similar texture and taste, but is a cheaper option when you're looking for a delicious snack that doesn't break the bank. Make the switch and see if you can tell the difference.
The extras
Now it's time to transform your fish finger sandwich into something really special – with these handy food hacks and tips.
The butter
Nothing completes a fish finger sandwich like a bit of real butter. Lathered on, creamy, and melting into the hot, satisfying filling.
Use the spreadable variety, as it makes it much easier to add to your bread when straight out of the fridge.
If you're debating whether to use salted or unsalted for your sandwich, we reckon it's worth giving salted a try, as it packs a little more flavour. Spread on both slices and press down evenly on your fish fingers. Give it a minute or two to let the butter melt before tucking in.
Chip shop heaven
For an authentic chip shop experience, an extra filling can take your fish finger sandwich to a whole new level.
Add some mushy peas or curry sauce into the equation – or even some nice thick chips, to transform it into an extra yummy fish and chip butty.
Lettuce and tomato
If you're wanting another extra, but don't want to detract from the main event, you could pop a little lettuce and tomato on top of the fish fingers.
You've heard of the BLT – now you've got yourself an FLT!
Top tip: Like most meals and snacks, nothing tops a fish finger sandwich off like a good old-fashioned brew. We're a nation of tea-drinkers, so there's a reason why we call it the best drink of the day.
Make your buttered fish finger sandwich with a few chips on the side and pour a fresh pot of tea to wash the delicious snack down. It's a combination made for lazy Sunday afternoons in.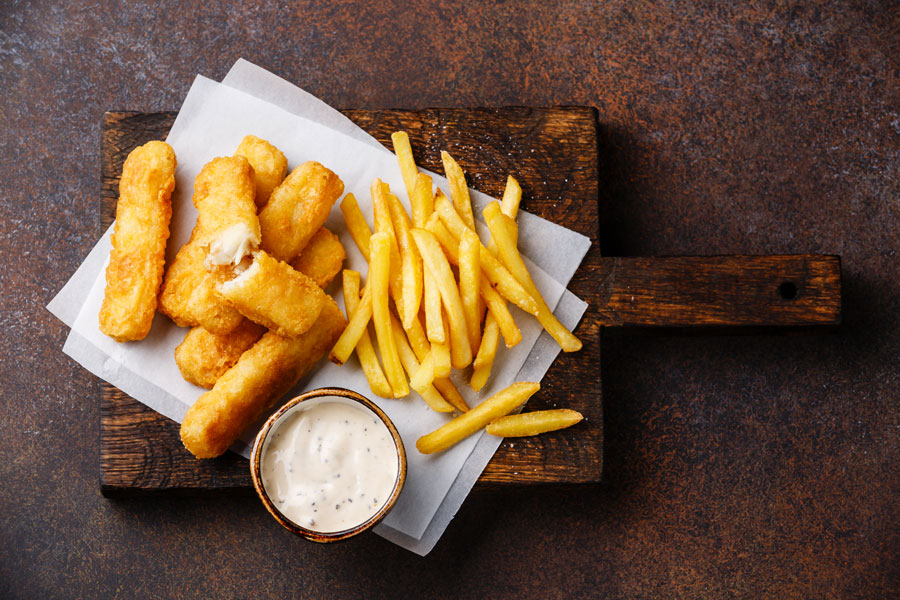 The sauce
Finally, the piéce de résistance of any fish finger sandwich: the sauce. Everyone has their favourite, and there's a host of sauces that can really give your sandwich that extra bang.
Here are a few classics – and something that little bit more adventurous – to make a mouth-watering prospect when you're sitting down to tuck in.
Ketchup
It's the obvious choice. A hit with kids and adults alike, ketchup and fish fingers are a match made in food heaven.
If you're looking for a quick weekend tea that'll be a hit when cooking for kids, ketchup is a sure-fire win. It might even persuade them to munch on those greens too.
Tartare
Another accompaniment that's made for fish, tartare has been the sauce of choice for scampi, salmon and fish fingers for years.
With a bittersweet taste, tartare combines mayo, capers, gherkins, lemon juice, fresh parsley and black pepper for a true taste sensation. Delicious.
Mayo
A veteran of sandwiches nationwide, mayo goes great with the fish finger variety. Its slightly tangy taste suits both fish and butter.
Spread an even layer on one side, and place on top of the fish fingers to get a perfect flavour combo. If you want to really push the boat out, consider adding a zing of lemon or even a hint of garlic to your mayo for added tang too.
Top tip: For an adventurous choice that'll really spice up your lunchtime snack, add a helping of sriracha hot sauce on top of some extra crispy fish fingers.
It's made from chilli peppers and has a tangy flavour – a real best-kept secret for adding extra zing to your fish finger sandwich.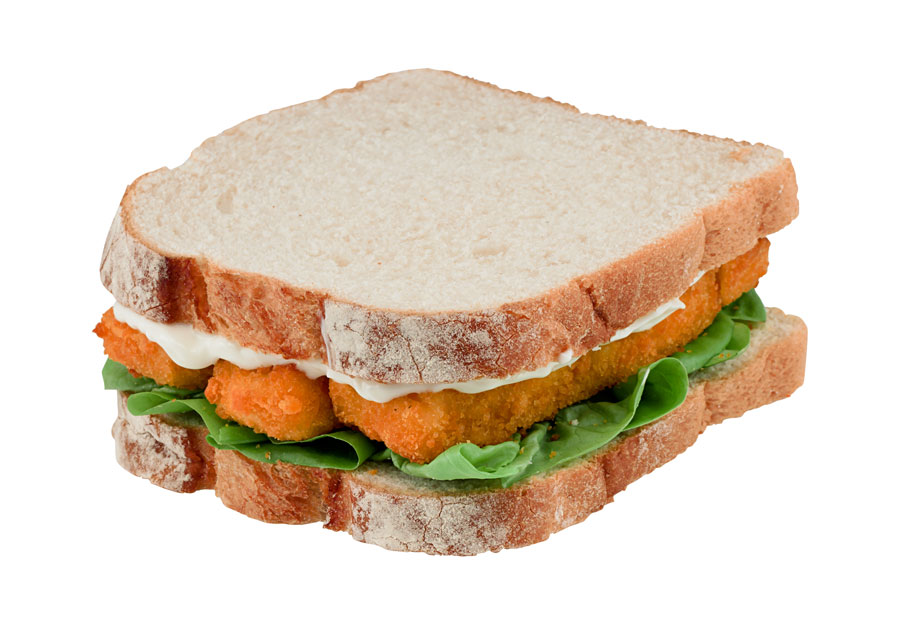 More ultimate sandwiches and snacks
We all love creating and sharing those perfect food moments, and there are plenty of comfort food classics that can be perfected into their ultimate form.
We've got every meal of the day covered, from breakfast ideas to lunch ideas to supper inspiration. Make delicious snacks and the best sandwiches with our mouth-watering guides.